Laugh uncontrollably. It clears your mind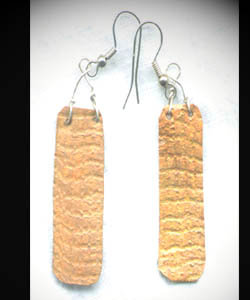 I used a Rolling Mill to texturize copper strips front and back. Sterling Silver wire adds a nice contrast $16.00
Designs by Bobbie
e mail:
bobbiehorn@hotmail.com
Domestic Shipping through USPS is FREE!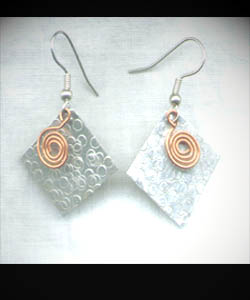 This is a smaller profile than most of the earrings I make. The textured diamond shapes are hammered aluminum and there is a copper coil for accent. The length is about 1 inch. $16.00

Priority shipping is $5.00 if you prefer
I am not responsible for the transit time of the United States Postal Service.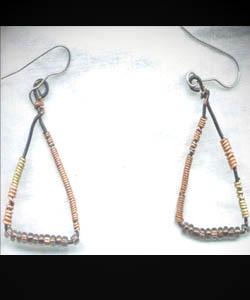 Black enamel over copper wire triangles are embellished with glass beads, copper and brass wire. About 2 inches long. $00.00
SOLD
If you ever have a problem with your jewelry, please contact me. I will gladly repair, free of charge, my jewelry provided it has been properly cared for. Damage due to misuse or catastrophe will not be covered (this includes cleaning with commercial cleansers or harsh solvents).


CONTACT ME:
Bobbie Horn
1938 FM 403
Brownfield,TX 79316
For more information you may email me:
bobbiehorn@hotmail.com
"In life's Sea of Insanity, I'm treading water" ~ Bobbie