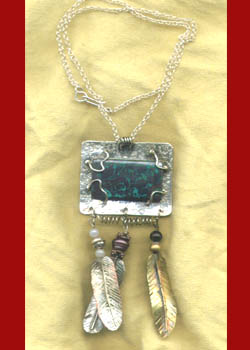 The image does not show the beauty of this stone. Generally speaking, I prefer Chrysocolla over Turquoise. This piece is a teal blue with what appears to be hematite. It measures aprox. 1.75X.75 inches. The Sterling Silver curb chain is about 20 inches long. Each feather is hand made, not cast. They are made of Sterling Silver, Brass and Copper with glass, freshwater pearl and black stone beads. This piece is stamped and signed. $175.00
CHRYSOCOLLA - A blue-green member of the quartz clan. Also known as Gem Silica. Is associated with tranquillity, serenity, peace, subconscious wisdom, intuition, patience, nurturance, acceptance, tolerance, unconditional love, calmness, meditation, honesty, hope, intimacy, gentleness and sensitivity.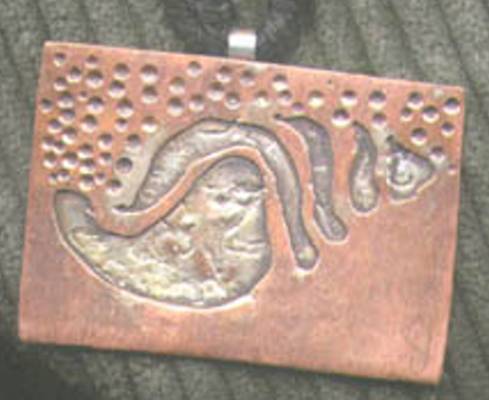 This piece is made from copper and Sterling Silver. Each section of the shell was cut out of copper using a jewelers saw. This is a time consuming but rewarding process. This piece is about 2.5 by 1.75 inches and can be worn on a chain, neck wire or ribbon. $75.00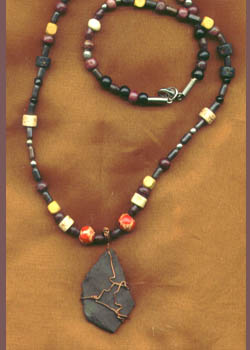 I started working with clay over a year ago and have been making pieces to incorporate in my jewelry. This pendant, made from a black bodied clay, is wrapped with copper wire and is the center piece for an array of wooden, clay, metal, bone and glass beads. It is about 22 inches long. $50.00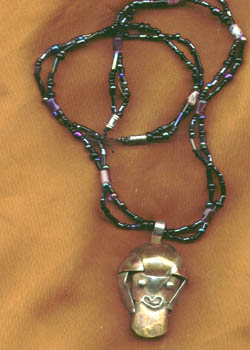 Several years ago I started creating a
series of masks.Each one is different.
That's what makes it so much fun. This one
is fabricated from Sterling Silver, Copper
and Brass and is 2 inches long.The necklace of
glass beads in a variety of shapes and colors is 17 inches.
$50.00
Take the time to look at things around you.
Find patterns and texture in things we often take for granted.
See color in unexpected places.

Turquoise nuggets, Mother of Pearl and bone are intertwined in this 18 inch necklace. 50.00
COPPER - This metal promotes channeling, cleansing, luck, prosperity, purification, selfesteem, communication and energy.
Who knew that the really big stone would be Lava Rock. It makes a really bold statement without being super heavy. I used handmade clay beads in glossy black and pewter glaze separated by copper tubes on 22 1/2'' chenille. The forged copper clasp finishes the look. SOLD